MP3

Skater's Waltz
Performer: Vera Hall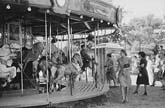 Courtesy of The Library of Congress
Music used with permission from The Carousel Organization. This site is no longer on the Web.

MP3

Ding Dong the Witch is Dead
Performer: Munchkins

Ding-dong the witch is dead
Which old witch? The wicked witch
Ding-dong the wicked witch is dead
Wake up you sleepyhead
Rub your eyes, get out of bed
Wake up the wicked witch is dead
She's gone where the goblins go
Below - below - below
Yo-ho, let's open up and sing and ring the bells out
Ding Dong' the merry-oh, sing it high, sing it low
Let them know the Wicked Witch is dead

MP3

Ring Round Rosey
Performers: Group of Children

Ring around a Rosey
Ring around a Rosey, pocketful o' posies
Light bread, sweet bread, squat!
Guess who she told me, tralalalala
Mr. Red was her lover, tralalalala
If you love him, hug him!
If you hate him, stomp!