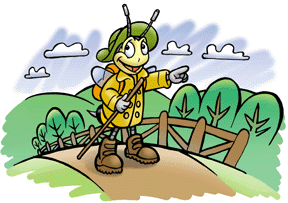 Activities
Bird Feeder Cams
dWebcams are live shots that are updated every few minutes.
Blackberry Recipes
Mouth watering recipes for blackberry cobbler, fruit smoothie, jam bar, blackberry-almond cream tart or layered dessert will make a yummy culminating activity for your students.
Fitchburg Railroad
Using information from articles about the Fitchburg Railroad, challenge your students with a few math problems.
Flour Milling
From field to table, you will find out how wheat is turned into flour. Then, bake biscuits.
Maps
Using an 1852 Map of Concord, find the listed locations.
Nashua River
The Nashua River has seen dramatic changes over the last decade. Take the Nashua River Walk and learn about river's habitat.
Nature Crafts
If you follow Henry and hike, you might want to have students make leaf prints or press flowers.
Nature Guides
Use these guides for identifying birds, flowers, and trees.
Stamps
Have students learn about stamps. Then, have them create a commemorative stamp for one of the authors. The autobiographical stamp instructions and grading sheet can be easily changed to a biographical commemorative.