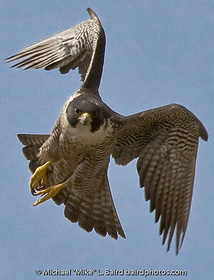 Peregrine Falcon Adult
Morro Bay, CA 27 May 2008
Michael "Mike" L. Baird, flickr.bairdphotos.com
---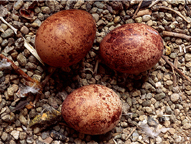 Peregrine Falcon Eggs
---

Peregrine Falcon with Chicks
U.S. Fish and Wildlife Service
---
National Standards
AASL Standards for the 21st-Century Learner
Draw conclusions, make
informed decisions, apply knowledge to new situations, and create new knowledge.
Language Arts
— Students conduct research on issues and interests by generating ideas and questions, and by posing problems. They gather, evaluate, and synthesize data from a variety of sources (e.g., print and non-print texts, artifacts, people) to communicate their discoveries in ways that suit their purpose and audience.
— Students use a variety of technological and information resources (e.g., libraries, databases, computer networks, video) to gather and synthesize information and to create and communicate knowledge.
Math
Data Analysis and Probability Standard for Grades Pre-K-12
— Formulate questions that can be addressed with data and collect, organize, and display relevant data to answer them
— Select and use appropriate statistical methods to analyze data
— Develop and evaluate inferences and predictions that are based on data
Science
Life Science Grades K-4
— The Characteristics of Organisms
— Life Cycles of Organism
— Organisms and Environments
Life Science Grades 5-8
— Reproduction and Heredity
— Populations and Ecosystems
— Diversity and Adaptations of Organisms
Life Science Grades 9-12
— Interdependence of organisms
— Behavior of organisms
Social Studies
People, Places, and Environments
— Social studies programs should include experiences that provide for the study of people, places, and environments.
Technology
Research and Information Fluency
— Students apply digital tools to gather, evaluate, and use information. Students:

a. plan strategies to guide inquiry.
b. locate, organize, analyze, evaluate, synthesize, and ethically use information from a variety of sources and media.
c. evaluate and select information sources and digital tools based on the appropriateness to specific tasks.
d. process data and report results.

Once an endangered species, the peregrine falcon has made a comeback from the brink of extinction. The primary cause of their decline was DDT, a pesticide used during the 1940s, 1950s, and 1960s that caused the eggshells to weaken. By 1975, only 324 nesting pairs were left. The GENERAL use of the pesticide was banned in the United States in 1972. Since this ban the peregrine falcon population has steadily increased. Now there are between 2,000 and 3,000 breeding pairs of American peregrine falcons in Canada, Mexico, and the United States.
These speedy birds of prey have adapted to city environments and many nest in tall buildings. Technology has made it possible to watch their nesting habits each spring via FalconCams. There are many resources and activities that fit into every aspect of the curriculum. Hone student research skills, learn about life cycles, graph animal speeds, draw falcons, and write stories. Cyberbee has gathered and organized a variety of lessons and resources for you to use with your students.
Resources
Falcon Banding
Learn how Dr. Paul Bartsch of the Smithsonian Institution initiated systematic, scientific bird banding in North America in 1902. View images of early bird bands. Read about today's process and tomorrow's program.
USGS Patuxent Wildlife and Research Center
The Peregrine Falcon Color Banding Protocol in North America
There is an international protocol in North America for colored leg bands on Peregrine Falcons. This site lists the colors used in various parts of the country. Also included is information about the letters and numbers stamped on the color bands.
Falcon Facts
All About Birds: Peregrine Falcon
This concise guide provides basic information, including habitat, range maps, conservation status, and a sound recording of the Peregrine Falcon. This site is from the Cornell Lab of Ornithology.
Discover the origin of Falco peregrinus, the scientific name for the Peregrine Falcon. A detailed explanation is presented. Learn how to recognize a Peregrine Falcon, by its size, markings, sound, and flight. Find out about the life cycle, range, migration, and breeding habits of these birds. Tap into the conservation information that describes the population decline and recovery of the species. Rounding out the site is a dictionary and list of book resources.
Smithsonian Zoological Park Migratory Bird Center
Find basic information about Peregrine Falcons, including measurements, taxonomy, and summer and winter distribution. View photographs contributed by bird enthusiasts. Read the article, Return of the Wanderer, that describes a re-introduction program started in 1996.
U.S. Fish and Wildlife Service: All About Peregrine Falcons (pdf)
How did the peregrine falcon get its name? Do peregrine falcons have natural predators? What subspecies of peregrine falcon are native to North America? Answers to these questions and more can found at the USFW Website. For photographs visit their Digital Library System and type Peregrine Falcon into the search box.
Falcon Speed
How do peregrine falcons fly so fast?
Learn about the speed, flight paths, and endurance of falcons. Then, watch the video, Fooled by Nature: Pigeons vs the Peregrine Falcon. You will be surprised and amazed. This is a must see video for your classroom.
Peregrine Falcon from Teacher's Domain
This video from Wild Nevada introduces the peregrine falcon, the so-called king of birds and bird of kings. Described by ornithologist Elise Schmitt as one of the fastest animals on Earth and a fierce hunter of other flying birds. The video also describes the peregrine's hunting habits and preferred habitat, as well as the success of captive breeding programs, which have restored healthier populations to Nevada and elsewhere. Although this is an older video made before the Peregrine Falcon was removed from the endangered species list, there is valuable information plus an up-close view of this magnificent bird.
FalconCams
Ft. Wayne Indiana AEP Building
New Jersey Division of Fish and Wildlife - Peregrine Falcon Webcam
NYS Dept. of Environmental Conservation
Woodmen of the World Peregrine FalconWatch Omaha, Nebraska

Wilson's American Ornithology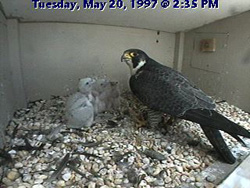 Peregrine Falcon and Chicks
FalconCam Columbus, Ohio
---
Lessons and Activities
Scavenger Hunt Grades 4-6
Peregrine Falcon Scavenger Hunt
Discover interesting facts about Peregrine Falcons, listen to their call, and learn how wildlife professionals track them. This is a great immersion activity before delving into a more detailed lesson.
---
Observing the Nest via FalconCam
1. Choose a FalconCam or an associated project. Check the list of FalconCams for locations. You may have one in your area.
2. Research Peregrine Falcons. There are many resources in books and on the Internet. For basic information, download and print the Peregrine Falcon Fact Sheet.
3. Download and print the Science Process Skills to use with your students while learning about and observing Peregrine Falcons.
4. Download and print the Vocabulary List and think of strategies for incorporating it into your science lesson.
5. Download and print the FalconCam: From Egg to Flight Observation Guide. Use it while observing the Peregrine Falcons.
6. Download and print this Peregrine Falcon Observation Rubric for evaluating student learning.
---
Math Activity Grades 4-6
Create a graph and compare the speed of a Peregrine Falcon with other animals.
Get the speed of animals from FactMonster
Spreadsheet for Microsoft Excel 97-2003
Spreadsheet for Microsoft Excel 2007
Extension: Show the video clip Fooled by Nature: Pigeons vs the Peregrine Falcon.
---
Science Activity Grades 7-8
Students will 1) give examples of ways in
which pesticides enter food chains, 2) describe possible consequences of pesticides entering food chains, and 3) describe how regulations attempt to control pesticide use.
1. Tap into the resources at the U.S. Fish and Wildlife Service to learn about Rachel Carson and her contribution to the environment through her book Silent Spring.
2. Watch this student made video to learn more about DDT and Rachel Carson
3. Read more about DDT, including some common myths.
4. Complete the the Hazardous Links, Possible Solutions activity.
---

Science Research Activity Grades 1-3
My Happy Habitat from the U.S. Mint
Based on the Idaho quarter reverse
Students will explore animals and the characteristics of their habitats, focusing on the peregrine falcon, the state raptor of Idaho.
---
Science Research Activity Grades 4-6
Illustrated Beauty from the US. Mint
Based on the Idaho quarter reverse
Students will identify information about the peregrine falcon. Students will understand and apply the basic tools of research to collect, interpret, and present the information.

Peregrine Falcon Adult
Morro Bay, CA 27 May 2008
Michael "Mike" L. Baird, flickr.bairdphotos.com