Dust Storm Disaster
(The Great Dust Storm)
by Woodie Guthrie
On the 14th day of April of 1935,
There struck the worst of dust storms that ever filled the sky.
You could see that dust storm comin', the cloud looked deathlike black,
And through our mighty nation, it left a dreadful track.
From Oklahoma City to the Arizona line,
Dakota and Nebraska to the lazy Rio Grande,
It fell across our city like a curtain of black rolled down,
We thought it was our judgement, we thought it was our doom.
The radio reported, we listened with alarm,
The wild and windy actions of this great mysterious storm;
From Albuquerque and Clovis, and all New Mexico,
They said it was the blackest that ever they had saw.
From old Dodge City, Kansas, the dust had rung their knell,
And a few more comrades sleeping on top of old Boot Hill.
From Denver, Colorado, they said it blew so strong,
They thought that they could hold out, but they didn't know how long.
Our relatives were huddled into their oil boom shacks,
And the children they was cryin' as it whistled through the cracks.
And the family it was crowded into their little room,
They thought the world had ended, and they thought it was their doom.
The storm took place at sundown, it lasted through the night,
When we looked out next morning, we saw a terrible sight.
We saw outside our window where wheat fields they had grown
Was now a rippling ocean of dust the wind had blown.
It covered up our fences, it covered up our barns,
It covered up our tractors in this wild and dusty storm.
We loaded our jalopies and piled our families in,
We rattled down that highway to never come back again.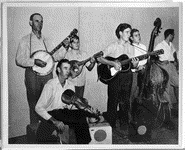 King family playing music
From movie "Grapes of Wrath" King Family (L-R)f Mr. King, Syd Thompson (friend), Charles, Harlen & Billy
Music played an important part in the lives of migrant workers as evidenced by the rich ethongraphic collections that were compiled from migrant camps, schoolyards, prisons, and local gathering places. In this lesson we extend the analysis of primary sources to sound recordings. The objective is to gain cultural knowledge about the music that ordinary people sang and played during the 1930s. Reading field notes and other bibliographic documentation can lead you to deeper understanding.
Voices of the Dust Bowl: The Charles L. Todd and Robert Sonkin Migrant Worker Collection, 1940 -1941
1. A kaleidoscope of folk culture is preserved in this collection of square dance calls, traditional ballads, cowboy songs, and storytelling. Listen to the "Chicken Reel" played by Lloyd "Red" Harmon on guitar and Willard Brewer on fiddle or Runnun Stewball sung by Vester Witworth. In another example from the collection a familiar song was adapted for a social cause. What was happening in California during 1940 that compelled Bert and Ruby Rains to pen these lyrics? Use the What Do You Hear Guide.
Southern Mosaic: The John and Ruby Lomax 1939 Southern States Recording Trip
2. John and Ruby Lomax traveled 6,502 mile through the southern United States carrying a sound recording unit that fit in the trunk of their car. No CDs in those days. These recordings represent a broad spectrum of musical styles, including ballads, blues, children's songs, cowboy songs, fiddle tunes, field hollers, lullabies, play-party songs, religious dramas, spirituals, and work songs. They seized every opportunity to record folksongs of the local culture. In one instance they saw a group of children singing in a schoolyard and stopped immediately ro record them. Ver Hall sings a lilting call for the game Hide and Seek and a group of children provide interesting lyrics to Ring Around the Rosy.
Listen to selections from these two collections. Then, choose one song and analyze it using the What Do You Hear Guide. Click on the text for the bibliographic record and more information, including many of the lyrics.

1. Show a photo of "Black Sunday," April 14, 1935. Distribute the lyrics to Woody Guthrie's "Dust Storm Disaster."

2. As a class analyze and discuss the photograph and lyrics.

3. In groups of two, students will choose one song from each collection to analyze using the What do You Hear Guide.

4. Share the analysis of the songs in class or online.
---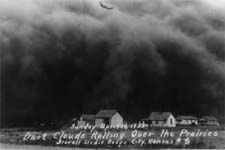 Click on Picture to View Larger Image
Black Sunday April 14, 1935
Dust Clouds Rolling Over Prairies
Stovall Studio Dodge City, Kansas