Thomas Nast was born in Landau, Germany in 1840. He came to America with his family as a child. When he was fifteen, he had his first drawing published in a magazine. In 1862, Nast worked for a magazine called Harper's Weekly and began drawing political cartoons. He came up with the idea of using animals to represent the Republican and Democratic parties. Nast also invented the image of Santa Claus. Thomas Nast died in 1902.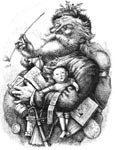 Click to view larger image
Courtesy of the Library of Congress
Thomas Nast's most famous image of Santa Claus was published in Harper's Weekly on January 1, 1881.