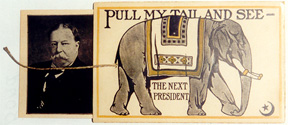 William Howard Taft Republican 1908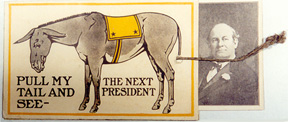 William Jennings Bryan Democrat 1908
Postcards were popular during the early years of the twentieth century from 1900 - 1912. Many were humorous. Some poked fun at the opposing party. Others carried slogans. One of the more novel campaign postcards was the mechanical which featured movement. You could pull a tail on a donkey or elephant and the picture of the candidate would appear.
What other kinds of artifacts have been used in political campaigns?
Browse CyberBee's Political Memorabilia for some answers.