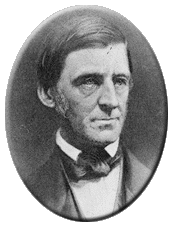 Ralph Waldo Emerson c1874
Courtesy of The Library of Congress
In the book, Henry Builds a Cabin, Mr. Emerson says, "Henry your cabin looks too small to eat in!"
Ralph Waldo Emerson
Ralph Waldo Emerson, known as the "Sage of Concord," was born in Boston on May 25, 1803. His youth was marked by poverty and sickness. Emerson graduated from Harvard College in 1821 and returned to study at Harvard Divinity School. In 1829, Emerson became a Unitarian minister of the Second Church in Boston and married his first Ellen Tucker. Eighteen months later in 1831, Ellen died of tuberculosis. After becoming dissatisfied with his profession, Emerson resigned from his position and traveled throughout Europe. When Emerson returned to the United States in 1833, he began to write and lecture.
Lidian Jackson from Plymouth and Emerson were married in 1835. They had four children, Waldo, Ellen, Edith, and Edward. When Waldo died in 1842 at 5 years of age, Thoreau wrote, "he died as the mist rises from the brook... He had not even taken root here."
In 1836, Emerson wrote Concord Hymn. It is a poem about the Revolutionary War battle fought on April 19,1775 between British and American soldiers. The battle took place in the Massachusetts towns of Lexington and Concord. During that same year, he also published his first book, Nature.
Emerson died on April 27, 1882 and is buried on Authors' Ridge in Sleepy Hollow Cemetery located in Concord.
Thoreau and Emerson
Thoreau and Emerson were good friends. He lived with the Emersons at various times. He would do odd jobs in exchange for room and board. Emerson gave Thoreau the land on which to build his cabin. Thoreau helped build Emerson's summer house. Thoreau entertained the children with magic and fun. He constructed a dollhouse for the Emerson girls that is on display today. Edward Waldo Emerson, son of Ralph and Lidian, remembers Henry in this passage.
"This youthful, cheery figure was a familiar one in our house, and when he, like the 'Pied Piper of Hamelin,' sounded his note in the hall, the children must needs come and hug his knees, and he struggled with them, nothing loath, to the fireplace, sat down and told stories, sometimes of the strange adventures of his childhood, or more often of squirrels, muskrats, hawks, he had seen that day, the Monitor-and-Merrimac duel of mud-turtles in the river, or the great Homeric battle of the red and black ants. Then he would make our pencils and knives disappear, and redeem them presently from our ears and noses; and last, would bring down the heavy copper warming-pan from the oblivion of the garret and unweariedly shake it over the blaze till reverberations arose within, and then opening it, let a white-blossoming explosion of popcorn fall over the little people on the rug. Later, this magician appeared often in house or garden and always to charm." - Edward Waldo Emerson from Henry Thoreau as Remembered by a Young Friend.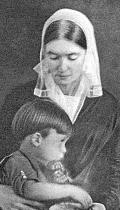 Lidian Emerson
In the book, Henry Builds a Cabin, Miss Lydia says, " Henry, your cabin looks too small to dance in!"
Lidian Emerson
Lydia Jackson (whom Emerson called Lidian) was born in 1802 in Plymouth, Massachusetts. She married Emerson in 1835 and settled in Concord. She shared many of Emerson's views.
The house in Concord had a small garden the south side, near the brook, in which Mrs. Emerson at once established her favorite flowers, plants, and seeds, brought from the Old Colony [Plymouth], especially her favorites, tulips and roses. - Memoir of Ralph Waldo Emerson by Edward Waldo Emerson
Lidian was an abolitionist and expressed her feelings by draping a black cloth over the gate and fence posts outside her house on July 4, 1855. She was protesting the continued presense of slavery in the United States. Thoreau was also an abolitionist.
Lidian Emerson died in 1892 at the age of 90. She is buried in the Sleepy Hollow Cemetery next to her husband.
Thoreau and Lidian
When Henry came to live with the Emeson family in 1841, Lidian and he became good friends.
Thoreau writes the following in a letter to Ralph Waldo Emerson, "Lidian and I make very good housekeepers. She is a very dear sister to me." - Henry Thoreau as Remembered by a Young Friend.
He also helped Lidian Emerson when Ralph was traveling. The following is a story about how Thoreau came up with the idea of booties for the chickens so they would not destroy Mrs. Emerson's roses.
The little garden which was being planted with fruit-trees and vegetables, with Mrs. Emerson's tulips and roses from Plymouth at the upper end, needed more care and much more skill to plant and cultivate than the owner had; who, moreover, could only spare a few morning hours to the work. So Thoreau took it in charge for his friend. He dealt also with the chickens, defeating their raids on the garden by asking Mrs. Emerson to make some shoes of thin morocco to stop their scratching." - Edward Waldo Emerson from Henry Thoreau as Remembered by a Young Friend.
Thoreau was always ready to lead a huckleberry party and posed this question to Mrs. Emerson in a letter he sent to her while he was in Staten Island on October 16, 1843. "Have you had the annual berrying party, or sat on the Cliffs a whole day this summer?

The Story of Concord Told by Concord Writers by Josephine Latham Swayne Boston: E.F. Worcester Press, 1906.