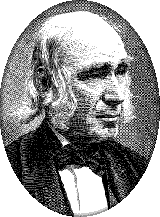 Amos Bronson Alcott
Courtesy of Cornell University Library
Nineteenth Century Periodicals Collection
Concord Books. [Harper's new monthly magazine.
/ Volume 51, Issue 301, June 1875]
In the book, Henry Builds a Cabin, Mr. Alcott says "Henry, your cabin looks too dark to read in!"


click to view larger image
Thoreau Cairn
The Thoreau cairn was started by Bronson Alcott. Everyone who visits the Walden site is to bring a stone to palce on the existing pile.
Bronson Alcott


Amos Bronson Alcott was born on November 29, 1799 in Wolcott, Connecticut. He was a self-educated man. Early in his life he worked as a peddler, handyman, and gardener. In 1830, he married Abigail May.
His experiment with education resulted in the founding of the Temple School in Boston. Alcott believed school should be a pleasant experience for children. His assistant, Elizabeth Palmer Peabody, started the first kindergarten in the United States. The Temple School closed in 1840. Alcott moved his family to Concord.
From 1845 to 1852, Bronson, Abigail, and their four daughters, Louisa, Anna, Elizabeth, and May lived in in the home they called Hillside. The name was changed to Wayside after Hawthorne purchased it from the Alcotts in 1852. They later moved to Orchard House, famous as the place where Louisa May Alcott wrote Little Women.
Abigail May Alcott died in 1877. Bronson Alcott died on March 4, 1888 in Boston. The Alcott family is buried on Authors' Ridge in Sleepy Hollow Cemetery located in Concord.