National Standards
Mathematics
Problem Solving
Instructional programs from prekindergarten through grade 12 should enable all students to--
* build new mathematical knowledge through problem solving;
* solve problems that arise in mathematics and in other contexts;
* apply and adapt a variety of appropriate strategies to solve problems;
* monitor and reflect on the process of mathematical problem solving.
Physical Education
— Demonstrates understanding of movement concepts, principles, strategies, and tactics as they apply to the learning and performance of physical activities.
— Participates regularly in physical activity.
— Values physical activity for health, enjoyment, challenge, self-expression, and/or social interaction.
---
Game Connection
Try this idea with your students. Have students ask their parents to name three common schoolyard games that they played when they were children. After gathering the names of the games, have students find information about them on the Web or in books to learn the rules and how to play them. Finally, have students teach the game to the class. Use the rubric below as a self-evaluation tool:
* Did I learn the names of three games my parents played?
* Did I teach the class three rules to one of the games?
* Did I give credit to where I found the rules to that game?
* Did I teach the class the game?
* Did they understand the game?
Schoolyard Games from the Past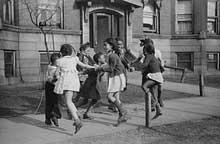 Children Playing Jump Rope
Courtesy of The Library of Congress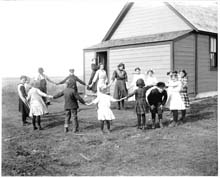 Children Playing a Circle Game
Courtesy of The Library of Congress

From the Ancient Egyptian game of Senet to the digital games of today, children have reveled in the strategies, stories, and intrigue that challenge the mind. Teaching history, math, science, reading/languages arts, and the unified arts through games or game construction can reinforce skill, concept, and application level knowledge.
History of Board Games
Online Guide to Traditional Games
Did you know that Wei Qi (Go) is considered by many to be the world's greatest strategic skill game? What makes Shogi or Japanese Chess a more interesting contest? Why did the Shaturanga players dispense with the dice in early Hindu civilization? Find the answers to these questions along with detailed explanations and illustrations of games that were created prior to 1900.
Web Games
Oware (pronounced oh-wah-ruh) is a game that has its origins in Ethiopia. There are a number of variations including Awale and Wari. The game is played with a hollow wood plank and some stones or seeds. Because it is a strategy game, you may want to tie it into problem-solving lessons. Awale, an elegant shareware program, is designed for both Macintosh and Windows. A trial copy can be downloaded for review. If you like the game, the cost is $10.
This investigation meets the NTCM standards and is based on the Factor Game from the "Prime Time" unit of the Connected Mathematics Project [http://connectedmath.msu.edu/]. The purpose of the lesson is to assist students in recognizing prime and composite numbers by analyzing the strategies involved in the game. Several activities are presented in digital and paper format.
Mancala is another ancient game similar to Oware that uses seeds or beads. The game is played counter-clockwise, with six playing pits and one scoring pit. You begin with three seeds in each pit. The object of the game is to place all of your seeds in the scoring pit and capture your opponent's seeds. You will be playing against the computer at this site, with all of the moves explained.
Download this program written for the Palm. It includes English, French, German, and Japanese versions. For those browsing the page from their Palms, executable files are available. There are also rules for the game and a list of links to other related Web sites.
Can you beat the computer? Try your skills at this Web site, where you will also find the laws of chess and frequently asked questions.
In Senet, an Ancient Egyptian game, you throw sticks to see how many squares to move your piece forward. This virtual version demonstrates the rules and provides hints about which moves are okay. This is a great starting point when learning about civilization and social customs of the Ancient World.
What a great way to learn about prime numbers. What student will ever forget the concept that Eratosthenes developed centuries ago? The Sieve of Eratosthenes drains out composite numbers and leaves prime numbers behind. On this page you learn about Eratosthenes and his step-by-step process. To further enhance your knowledge you can play with the sieve through an interactive Java applet.
Lessons
Make a Harry Potter Board Game
One of the most popular series of books these days is J. K. Rowling's "Harry Potter" series. In this lesson students will learn how to write inference and recall questions as they create a trivia game.
Schoolyard Games
Children's Games from Around the World
The games on this list are known as abstract strategy games and they fall into several categories based on the objective of game play. Abstract strategy games rely on player's thinking, logic and visual perception skills. They do not rely solely on chance or athleticism! (Good news for many of us, ha ha ha)
For the international community, the I*EARN organization has created a Web site dedicated to the preservation of children's folk games. The games, rhymes, tongue twisters, and traditions are written in the native languages. This is a great site for ESL and foreign language teachers.
Remember playing marbles or red light green light? At this novel site there are over 250 games to look up. Each game lists the rules and directions for playing.


Make Your Own Game Board
Before embarking on a lesson involving the creation of a game, it is important to provide students with a foundation of prior knowledge and experience in playing games. Study the history and evolution of games. Bring a variety of game boards for students to examine, emphasizing the design and rules that are necessary elements for a successful product. Play some of the board games online. Have students think about these questions:
1. What was the objective of the game?
2. What were the rules? Did you understand them?
3. How were the moves determined? Were dice, cards, a spinner, or something else used?
4. What pieces were used to move around the board?
5. Was the game similar to another game that you have played or read about?
6. How was the game designed? Was there one path or several paths? What obstacles caused you to lose a turn or go backward? What shortcuts allowed you to go forward?
7. What reward was at the end of the game?
When it is time to begin the creative process, students will be better prepared to generate a multitude of ideas and strategies for devising their own games. Be sure to visit the Board Game Design Project Web site.
Board Game Design Project
Bernie Dodge, professor of educational technology at San Diego State University and originator of the WebQuest, has created a course on exploratory learning through simulation and games. Within this course are excellent guides for game board design, a lesson template, an evaluation rubric, and examples of completed projects. The entire design process is examined thoroughly from content analysis to game structure. This is the definitive site to visit for an in-depth study of how to create games.
Alice's Adventure in Wonderland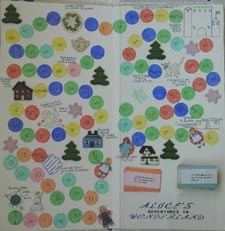 In this example, a sixth grade student created a game based on the book, Alice's Adventures in Wonderland. The design of the game was patterned after the Uncle Wiggily game of the 1930s. The Uncle Wiggily stories by Howard Garris were about a rabbit and his friends. In the game, there are a series of cards with references to places and characters in the stories along with how many spaces to move.
Directions:
Number of Players: 2-4
How to Play: Start at number one. Take a card from the multicolored stack and move that many numbers. If it says take an orange card, then take an orange card and follow its directions. Go to the specific place. If you reach a place such as the rabbit hole, Duchess' house, etc.,... then you must go forward or backward a few spaces or lose one or two turns. Whoever reaches Home Sweet Home first is the winner and made it through Wonderland.