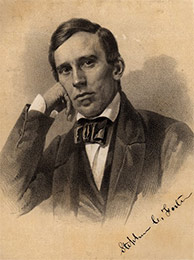 Stephen C. Foster
Stephen Foster born July 4, 1826 was the youngest of three sisters and six brothers. He lived in Pittsburgh, Pennsylvania for most of his life. He married Jane McDowell on July 22, 1850.
Stephen Foster learned to play the flute and other instruments at an early age according to his brother Morrison Foster. Foster had no formal training in composition, but was quite successful beginning with Oh! Susanna in 1848. His most prolific period of song writing was 1848-1854 when he signed a contract with the Cristy Minstrels. Seven of Foster's songs were uses in Gone With the Wind.
Foster became ill with a fever in January 1864. Weakened, he fell in his hotel in the Bowery, cutting his neck. He died in Bellevue Hospital three days later, at age 37.
Stephen Foster: Non-diegetically Music
Lou'siana Belle
Dolly Day
Katy Bell
Old Folks at Home (Swanee River)
Ring de Banjo
Massa's in de Cod Ground
My Old Kentucky Home



Gone With The Wind Preexisting Traditional Music
In 1939, Gone with the Wind was released and considered one of the greatest films of all times, David O. Selznick produced the movie based on Margaret Mitchell's novel. Max Steiner provided the musical score that contained original music such as Tara's theme as well as preexisting traditional music such as My Old Kentucky Home.
Steiner scored the music in different ways to achieve his own personal style of narrative function. Background music (non-diegetically) such as Chicken Reel was played as Uncle Peter chases a rooster through Aunt Pitty Pat's back yard for Christmas dinner. This enhanced the humor of the scene for the audience.
Other traditional music served an integral part of scenes and their characters as they are able to hear the tune (diegetic). One poignant moment is when the band plays Dixie at the newspaper office (see the image below). Another example is at the Bazaar where Rhett and Scarlett dance the Virginia Reel.
The earliest recorded music was released within fifty years of the Civil War. So preexisting traditional music was quite popular and was recorded on cylinders and discs. The renditions from my collection demonstrate examples of tunes that were incorporated into the score of Gone With the Wind. However, they do not reflect the final score since there were changes made to the lyrics and musical notations.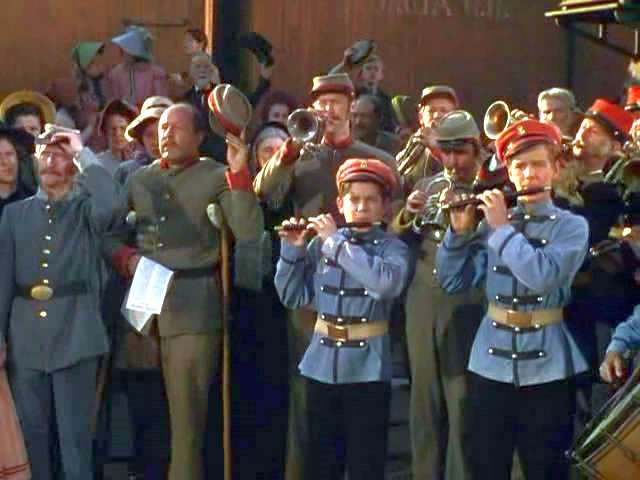 Resources
AMERICAN TRADITIONAL MUSIC IN MAX STEINER'S SCORE FOR GONE WITH THE WIND by Heather Grace Fisher 2010
Biography, Songs & Musical Compositions of Stephen C. Foster, Author of The Old Folks at Home By His Brother Morrison Foster of Olver Place, Edgeworth. Foster, Morrison Published by Percy Smith, 1896.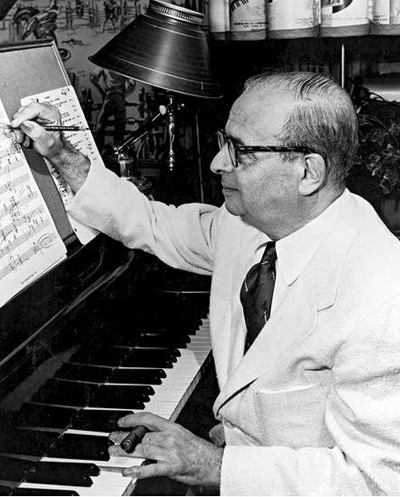 Max Steiner
Wrote the Musical Score for GWTW
Non-diegetically Traditional Music
Chicken Reel
Ben Bolt
Dixie
Bonnie Blue Flag
Maryland My Maryland
The Cavaliers of Dixie
Battle Hymn of the Republic
Taps
Katy Bell
When this Cruel War is Over
Tramp Tramp Tramp
Yankee Doodle

Diegetic Traditional Music
Ben Bolt
Bonnie Blue Flag
Dixie
Garry Owen
Irish Washerwoman
Marching Through Georgia
Maryland My Maryland
My Old Kentucky Home
When Johnny Comes Marching Home
When This Cruel War Is Over
Old Folks at Home