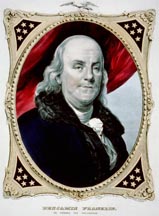 Benjamin Franklin: The statesman and philosopher
Currier and Ives 1847
Courtesy of The Library of Congress
The U.S. Constitution is a living, flexible document that is the foundation of American government. Benjamin Franklin played a key role as elder statesman at the Constitutional Convention in 1787. Join Dr. Franklin as he shares his views about the framing of the U.S. Constitution in the town where history was made - Philadelphia, Pennsylvania.
Thanks to Bill Robling who graciously gave his time to portray Benjamin Franklin at Independence Hall, Franklin Court, and around the city of Philadelphia, Pennsylvania. Visit Bill's Website: http://foundingfranklin.com/.

Meet Dr. Franklin

Click on the Quill to View QuickTime Movies. Allow time for the movies to load.
Click on the Pictures to View Larger Images.



Education

Religion

Career Choice

Views on Independence

Franklin the printer

Courtesy of The Library of Congress

Business

Declaration of Independence

Scientist

Statesman

Dr. Franklin

The Signing of the U.S. Constitution

Constitution

Link to Lesson Resources and National Social Studies Standards